Herb Crusted Chuck Roast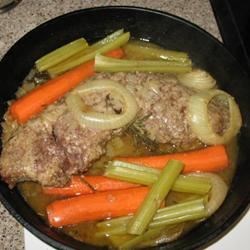 Recipe makes 6 servings.
1/4 cup dry breadcrumbs
1 teaspoon
ground mustard
1 teaspoon
ground black pepper
1/2 teaspoon
crushed dried rosemary
1 (3 pound)
 Midwestern Meats B
oneless Chuck Roast
3 tablespoons
prepared horseradish
Directions
Preheat oven to 325 degrees F (165 degrees C).

Mix bread crumbs, olive oil, garlic, ground mustard, savory, black pepper, and rosemary in a bowl; spread mixture over beef chuck roast. Transfer roast to a shallow roasting pan.

Bake in preheated oven until beef begins to firm and is reddish-pink and juicy in the center, 1 1/2 to 2 hours. An instant-read thermometer inserted into the center should read 130 degrees F (54 degrees C). Allow roast to rest for 10 minutes before slicing and serving.

Stir sour cream, horseradish, lemon juice, and salt in another bowl. Serve with sliced beef.
PREP        10 mins
COOK        1 hr30 mins
READY IN  1 hr50 mins
Nutrition